(Updated Frequently)
INTERNATIONAL
 
NATIONAL 
Protesters and Bystanders Describe Tension and Terror at Thursday's #AlfredOlango Demonstration
https://www.colorlines.com/articles/protesters-and-bystanders-describe-tension-and-terror-thursdays-alfredolango-demonstration
"Last night's crowd was also much smaller than those at earlier protests, according to Jeff Provenzano, who was filming the scene on behalf of the anti-police violence organization United Against Police Terror San Diego. Up to 300 people showed up on previous nights, but only about 50 to 75 people showed up last night."
Officers entered the scene around 6:30 p.m. and shot pepper balls and beanbag rounds at protesters. Pepper-ball pellets contain a powdered chemical similar to the one in pepper spray, and in several bystander videos posted on Facebook you can see people coughing and in obvious pain. Police also threw at least five tear gas canisters in the area to disperse protestors who wouldn't move when the police formation began closing in on them.
Though the El Cajon Police Department statement didn't mention beanbag rounds, Provenzano says he recovered some from the scene after police left.

#AlfredOlango: El Cajon, Calif., Police Aware Unarmed Black Man Was in Mental Distress Before They Fatally Shot Him
Updated Wednesday, Sept. 28, 2:17 a.m. EDT: According to activists on the ground in El Cajon, the police department informed media that they were aware they were responding to a 5150 call when Olango was killed.
A "5150" call is defined as:
When a person, as a result of a mental disorder, is a danger to himself/herself or others or is gravely disabled, a peace officer, a member of the attending staff, or another professional person designated by the county may with probable cause take the person into custody and place him or her in a facility for a 72-hour treatment and evaluation.
This information appears to be confirmed by police scanner audio shared by United Against Police Terror – San Diego Copwatch & Campaign for Justice. Calls to El Cajon PD to confirm authenticity of audio have not been returned.
Activists want San Diego County to cancel its contracts with the Corrections Corporation of America.
" Catherine Mendonca, a women's rights activist who will fast alongside Bartlett, wonders whether CCA's San Diego facilities are fulfilling their promise to help inmates prepare for freedom. "If they're getting proper nutrition, if they're getting opportunities to actually get a job—all of these are actually questionable," Mendonca says. "Is this actual rehabilitation? Or is this something to profit off the backs of those incarcerated?"
San Diego Cop Makes Instagram Post Begging for a Riot So She Can Hurt People at Trump Protest
San Diego, CA — When considering how riots start, it is important to note who comes dressed for a riot. All too often, police tactics ostensibly designed to protect and calm citizens end up having the opposite effect. Tactics such as "kettling" push non-violent peaceful protesters to their limits by forcing them into tight spaces where they are surrounded by storm troopers in body armor banging on their shields with batons.
Who wouldn't take this tactic as an aggressive move meant to provoke?
Many officers know that this response to protests has a stressful, intimidating, and provoking effect on those it's employed against and this was recently evidenced by a San Diego cop's Instagram post during the Donald Trump protests over the weekend.
The cop posted an image of herself in riot gear, with the caption: "Waiting waiting waiting!! Just riot already people!!! #waitingsucks."
"It sends a really bad image for the San Diego Police Department and we want answers," Trump protester Michaela Glover said.
"It looks like they were taking that as a joke, and our lives are not a joke. Our safety is not a joke," exclaimed Glover.
Three hours after she made the post, around 5 pm, the officer got what she wanted as supporters began to mix and fights broke out. Police then declared an unlawful assembly and began to drive out the crowds.
"They post 'come on riot already so we can use this equipment against you,'" said Cathy Mendonca of United Against Police Terror. "That's pretty much what the message was."
San Diego police Lt. Scott Wahl said the department was made aware of the photograph and assures the public that they "are looking into this matter."
Capt. Ray Lewis, who retired from the Philadelphia Police Department in 2004 after serving 24 years and was present during the 2011 Occupy Wall Street protests, said undercover provocateurs frequently engage in inciting violence.
"That's the easiest way to destroy a movement," he stated. "Let's say you have Occupy. Either the police, Homeland Security or corporate America – Wall Street – will hire one of their security officers to go out there and burn the American flag, so now you have one of these guys burning an American flag and he's not an Occupier, he's not with the protestors, but guess what gets shown all across America?"
"All mainstream America, sitting at home in their middle-class neighborhoods, see this one guy burning an American flag or another one urinating on a police car who is also an undercover agent and then think 'oh my God, that whole protest – that whole movement – is corrupt and I don't want anything to do with it.'"
"So they never learn anything about it," he added. "You can kill a movement that fast with provocateurs."
The government can also use provocateurs to stir up violence at otherwise peaceful demonstrations to justify a draconian response to the protest and the militarization of local law enforcement. And now, thanks to this San Diego cop's honesty about her intentions to want violence, the people know exactly what to expect during demonstrations.
Read more at http://thefreethoughtproject.com/san-diego-cop-instagram-post-begging-riot-hurt-people-trump-protest/#ljAhDVjwTftkt6VQ.99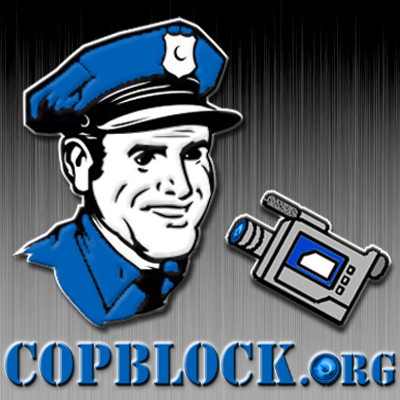 San Diego Cop Can't Wait to Riot at Donald Trump Protest
Photography Is NOT A Crime (website)
Security guards from a Southern California hospital ordered a man to stop recording as one of them wrapped his arm around a man's neck and wrestled him to the street.
The videographer, who maintains the YouTube channel, IRATE Productions, was standing on a sidewalk outside UC Medical Center in San Diego, but was told he was standing on private property.
While it is doubtful the sidewalk in front of the hospital in private property, the man then moved onto the street to continue recording.
Meanwhile, the mother of the man being restrained pleaded with him to stop recording, telling him, "my son is bad."
Her son apparently struck his "abusive father," according to the YouTube description:
UC Medical Center Security stop a vehicle after man allegedly hit his abusive father. Security pulls man out of the vehicle, ruff him up on the ground and handcuff him.

Family and Security harass me saying I am not allowed to film on private property, so i move to the street, which is public property. SDPD show up and take man in custody. While security still harasses me, even after I explain myself and told them to ask the officers if Im allowed to film.

(*Not Caught on Film)
After one security guard recognized me as an employee, he asks me why Im recording, while the aggressive security guard claims Im violating HIPPA laws (Health Information Privacy) which is false as I do work for UCSD however not affiliated with the hospital, and not under any HIPPA contract. Also there are several security cameras that film not only this location, but many other areas, If I cant film them, why can they film me anytime i walk past.

The SDPD officers had no care that I was filming, even after security claimed I was filming on private property. After explaining to a lot cooler security guard that I am an independent journalist, and I film everything, always, and I was not causing trouble, he advised me that I was good and have not broken any laws, As I already knew.

This video was filmed as a safety precaution to not only the family but also security as well as the police, In no way am I claiming any parties involved are guilty of committing a crime or violating anyone's rights. I am simply reporting public information on breaking news in my community.
The videographer, who makes an effort to keep his name from being publicized, also runs a police accountability page called United Against Police Terror San Diego.

Victoria Jones said she did not trust the police investigation into the death of her son, #LamontezJones. He was shot and killed by San Diego police in October 2015 when he brandished a fake handgun during an encounter with two officers downtown.
"The painting they used, I'm here to tell you, it wasn't the complete picture," Jones told the crowd.
Scores of protests, some violent, have been staged after police killings across the nation, especially after unarmed black men were shot.
http://www.sandiegouniontribune.com/news/public-safety/sd-me-protest-day-20161021-story.html
Activists Hope To Spotlight Local Police And Community Relations

Wrongful death claim filed in San Diego police shooting of man with fake gun

Sheriff's Dept. Launches Internal Investigation After Activist Group Receives Hate Email
Source: http://www.nbcsandiego.com/news/local/Sheriffs-Dept-Internal-Investigation-Hate-Email–328745481.html#ixzz3zWB195Mu

The email address appears to have come from inside the Sheriff's Department
SAN DIEGO — The Sheriff's Department is investigating whether someone in its own office sent an obscenity-riddled hate email to an activist group critical of law enforcement.
The email rant that referred to Ferguson, Mo. protesters as animals and said "real citizens" of the county love the police was sent Sept. 16 to the website of United Against Police Terror San Diego, its spokeswoman, Cat Mendonca said.
Mendonca held a news conference outside the sheriff's Kearny Mesa headquarters on Tuesday to say her organization had filed a complaint with the Citizens' Law Enforcement Review Board, which handles complaints against sheriff's deputies.
She said a trace of the email's origins showed that it apparently came from a specific computer with a unique IP, or Internet Protocol, address within the Sheriff's Department.
Sheriff's Lt. Marco Garmo also spoke, saying the department is investigating and taking the matter seriously. Mendonca gave him a copy of the complaint.
The sheriff's Internal Affairs unit is handling the probe, spokeswoman Melissa Aquino said.
The group United Against Police Terror states on its literature that its mission, in part, is to denounce harassment, violence, and abuse of power by police.
"The email said 'real citizens' do their job, and that the (Ferguson) protesters were looting, were animals. There was a lot of racial stuff," Mendonca said in an interview. "But we are the community. We're taxpayers. We never incited any violence."
The email opens with profanities and says the police aren't the problem, criminals are. "And thank God for gang injunctions and gang documenting procedures," it continues.
It ends saying, "The good people of this county and country will always prevail over scum like you. Good luck. Your going to need it." It sent from an email address Sisckokid1560.
Also at the news conference was Jeff Olson with Socialist Alternative, to support Mendonca's organization.
"The sheriff has two choices," Olson said, "to reveal the prankster who got through their IP address, or reveal the employee and terminate their employment.
"The email's really disturbing. It's in all caps, full of spelling mistakes and bad grammar."
 Univision San Diego
Justice for Victor Ortega March in City Heights
March 15, 2015 (San Diego) The march is a monthly affair and it had about 20 people this month. This march is to remember the death of Victor Ortega in 2012, at the hands of Officer Jonathan McCarthy, who is still on patrol, The District Attorney found that shooting justified.
The family has been in the courts trying to reopen the case because they feel the police lied, and San Diego Police (SDPD) covered for one of their own. In November of 2014 a Federal Judge found that there were many inconsistencies in the police report. Reporting San Diego asked Shakina Ortega, his widow, what is the status of this case? It is still an open case. She told us that the city appealed; the case is still open.
This march showed the tensions between the police and the community of City Heights. It started when Captain D. Nisslet walked over from the station to the small gathering, of twenty people or so, including three reporters from two different city of San Diego news outlets, to warn Catherine Mendonca that anything that went wrong was on her. Nisslet told her that she was the organizer, and as such she could be held liable and arrested.
Mendonca countered that it was not her, but the family. The Captain kept on this line and did not allow Aaron Leaf to speak since he was talking with Mendonca.
Soon after, a group, including Mendonca, walked to the sidewalk, technically outside the park, to smoke. Captain Nisslet, with two of his lieutenants and a sergeant, walked over and warned them that they should not do that. He pointed to the sign and told them that he could arrest them, if he wanted to, for that, but he was being nice and educating them about city ordinances.
A quick search of Smoke Free San Diego does not list smoking in sidewalks as something you can get a ticket for within City limits. It does note you could get a ticket if you do it in a park or beach.
And a further check reveals that the ordinance is just limited to actual parks and actual beaches. This is City of San Diego Municipal Code 4.3.10. The possible ticket for the first offense is $250.00
Some of the conversation was telling. The protesters, including Aaron leaf, objected, and told Captain Nisslet that he did not respect them. To which the Captain answered "If I did not respect you guys, I would have arrested you guys for jay walking." (The marches have many a times taken to the streets).
The Event Itself
When the event started, the small group of protesters and media gathered around Shakina Ortega. She told the crowd: "Thank you everybody that supports this, and everybody making a difference in everybody's lives, not just ours." She added, "we really appreciate for people standing up because they know it's not right."
"Thank you for helping spread the word, We love you guys for that. Thank you for everybody that comes."
Michelle Ortega then took the bullhorn. While Shakina lost a husband, she lost a brother. Michelle said that "this police brutality thing is a world wide thing. My goal is to get Victor's name out there, and get the awareness, and get Jonathan McCarthy (the officer) to go to jail, which he will eventually."
She, like Shakina, added "it means a lot when you guys come out, especially on a hot day like this." (The temperature was hovering around 90.)
According to Michelle, "this is actually putting pressure on them, even though it might be 20 or 30 people out here. It does really make a difference."
She was emphatic, "they don't want us out here. Every time we come out here just for Victor Ortega, they are mad about that. They don't want the media, they don't want the attention of the community to know what they really did."
After the short speeches were done, the small group moved on to the corner of University and Fairmont. They kept to the streets and were followed by Captain Nisslet, two of his lieutenants, and a sergeant (who had a gas mask on his thigh) throughout, keeping a distance of at most 10 feet.
Once at the park, two officers stood by the Officer Jeremy Henwood sign. (Formerly the park was called Rosa Parks), guarding it. Ever since Chris McCay put a sign on it, with the name of Victor Ortega on it, using string, officers have protected that sign from any kind of defacing. Except that the temporary sign was just that, temporary and non damaging to the granite.
To the police this is a sign of disorder, not peaceful protest, and under broken windows theory this has to be stooped before we suppose somebody actually, for real, damages the sign. Captain Nisslet told the protesters in emphatic terms, "It is my job to protect the sign."
Once the two officers walked away, the demonstrators moved to the sign. One of them sat on it, while another did some dirty dancing on it This lead to the Captain walking back across, with ten officers, 7 of whom walked and surrounded the sign. This did not stop the protest. The family was not taking any of this and the temperature continued to rise.
At one point the sister of Victor Ortega got on her knees in front of the officers protecting the sign. She put her hands behind her back, and told them to arrest her and shoot her. That way her mother could lose another child. The officers did their level best to ignore it and looked everywhere but at her.
She also asked them if any of them was a good cop? She asked them to stand up and denounce the bad officers in the department. Officers just stood there.
Captain Nisslet tried to defuse the situation, while both Leaf and McCay told him in no uncertain terms that this looked like police intimation. McKay put his hands behind his back as he talked to the Captain.
As the family walked away, with babies, and children in tow, the officers finally left.
Reporting San Diego asked one of the Lieutenants for a statement, with a business card in hand. We were told that the Captain was the person to ask. I approached to get a statement, and I was told "I'm done talking." The Captain turned and left.
We are also embedding some of the video, raw as it is of Mendonca, among others, questioning why the plaque is more important than the message.
Editor's note: The Park is public property, but Mendonca's point stands.
Twitter: @nadinbrzezinski
Facebook: Reporting San Diego
If you like the news coverage, pay what you think is fair. Gas, trolley passes, and camera equipment are not free. We make it easy though the pay pal button on the side.

Despite Disappointing Turnout, 100 San Diegans March 4 Miles for Justice
City Heights Residents Protest SDPD After Deadly Shooting
Victor Ortega was killed June 4, 2012 in a confrontation with a San Diego police officer
Women on the Wave
Af3rm held its National Summit and 25th anniversary celebration Oct. 11-12 at the Social Justice High School in Los Angeles. Over 400 women-identified participants attended the two-day summit to examine the issues that impact transnational, im/migrant and women of color and to transform, build and lead the next wave of feminism. The summit was unique in that it placed special emphasis on the need for each individual to participate fully and also collectively in the movement for women's liberation by envisioning and manifesting a new and just world.
The panel on "Transnational Feminism: Our Activism in Action – Insight into the Practical Application of Ideology in Praxis" included Olivia Canlas, Myra Duran, Catherine Mendonca, Ivy Quicho and facilitated by Kristen Jackson. Whereas the previous panels talked about theories, this panel talked about activism in action. Cathy has been active in the San Diego community for over four years and is co-founder of United Against Police Terror which will be holding a "National Day of Protest Against Police Brutality Rally and Light Brigade" Oct. 22 at the City Heights/Weingart Library and Performance Annex starting at 6 p.m.
Following the press conference by United Against Police Terror and its allies this morning, news coverage is pouring in. The conference was followed by a perfunctory statement by the department stating that they were taking the matter of hate email coming from the Sheriff's Department IP address "very seriously" and were conducting an internal investigation.
NBC 7 San Diego: "Sheriff's Dept. Launches Internal Investigation After Activist Group Receives Hate Email"
The email says, in part, "The police aren't the problem. It's the criminals out there victimizing the real citizens of the country that are the problem."

Much of the email is too profane to broadcast on TV or copy in an article.

Mendonça said perhaps the most troubling part of the email was where the writer described Ferguson protesters as "animals."

"It just perpetuates that 'lesser of a being' (stereotype), and it highlights how much racism is still present to this day," [Catherine] Mendonça said. "There's still hundreds of years of racism that we still need to overcome."
San Diego Union-Tribune: "Sheriff's probe origin of hate email to activist group" by Pauline Repard
The email rant that referred to Ferguson, Mo. protesters as animals and said "real citizens" of the county love the police was sent Sept. 16 to the website of United Against Police Terror San Diego, its spokeswoman, Cat Mendonca said.

Mendonca held a news conference outside the sheriff's Kearny Mesa headquarters on Tuesday to say her organization had filed a complaint with the Citizens' Law Enforcement Review Board, which handles complaints against sheriff's deputies.
CBS 8 News: "Sheriff's Department Investigating Profane Email"
Protesters are calling on Sheriff Bill Gore to take action after a profane email traced back to sheriff's headquarters was sent to an activist group critical of law enforcement policies.
Univision San Diego: "Organización recibe correo amenazante y lo rastrean hasta el Departamento del Alguacil (Organization receives threatening mail tracked to the Sheriff's Department)"
En un comunicado de prensa señalaron que el mensaje fue recibido el miércoles 16 de septiembre con insultos, defendiendo a la policía y llamando a los protestantes de policías de Ferguson "animales".

Mencionaron que en esta era de anonimato en internet, el recibir este tipo de correos es algo común para la organización, lo que no fue común, fue que supuestamente lo recibieron del Departamento del Alguacil.
Frontera San Diego: "Carta de odio enviada a activistas desde oficina del Alguacil" by Ana L. Gómez
 "Email Traced Back to San Diego Sheriff's Shows How Cops Really Feel About Protesters" by Derrick Broze
This latest saga between police accountability activists and the police is yet another example of the divisions gripping the country. Without a doubt, individuals who threaten violence against other free humans should be held accountable. However, we should not allow ourselves to be sucked into a false paradigm of the people versus the police.

Any good-hearted police officers remaining within the ranks of the increasingly militarized local police departments should quickly leave as conscientious objectors. Only by making it clear that their intention is to support the community — not defend the state — will officers gain the support of the people. At the same time, the activists in the streets should make it clear they are against violent criminals, not misguided individuals who joined the police force in an effort to serve and protect.

We can find common ground and strengthen our bonds and unity by recognizing the way this system is dividing us along lines of race and profession, among other things. We are one and it's time we start organizing and acting like it. Let's not further divide ourselves. Instead, let's work towards the harmony and unity of all people and focus our energies on our mutual enemies.
The Raw Story: "Someone in the San Diego sheriff's office thinks police protesters are drug-addicted 'animals'" by Travis Gettys (Sept. 24)
The San Diego sheriff's department launched an investigation after someone sent obscenity-riddled hate mail to an activist group protesting police brutality.

But investigators soon learned, like the babysitter in the urban legend, the calls are coming from inside the house.
Mediaite coverage by Ken Meyer (has mistake- this was the county sheriff not the San Diego PD)
spokeswoman Cat Mendonca and Lt. Marco Garmo held a press conference on Tuesday where they said that an internal investigation was underway, acknowledging that the IP address did, indeed, come from their computers.
Copblock: "San Diego Activist Group Tracks Hate Mail to Sheriff's Department" by Dylan Donnelly
This message isn't anything new for police or the internet.  The author illustrates a common "Us vs Them" mentality among police officers that dehumanizes the people they claim to serve.  The "thin blue line" culture is intolerant of dissent, drawing a line between the "real citezens [sic]" and those not worthy of police protection, common decency, dignity or life.

Catherine Mendonca of UAPTSD said, "I really do hope that the broader discussion of why we're a target can happen #SDSTOLENLIVES need #Justice uaptsd.org".
http://www2.palomar.edu/telescope/2014/12/10/protest-at-san-marcos-campus/
Earlier Wednesday, a group of 11 students and staff stood in the Student Union protesting the recent allegations of racially-motivated police crimes against Eric Garner, Michael Brown and Tamir Rice. Holding up signs that said "Stop police brutality," "Black lives matter" and "No justice no peace," the group reached out to any students and staff walking by.
Natalie, 27, the group's organizer, came up with the idea while watching the news about the Garner aftermath.
"I spoke with my teacher, and she helped me put it together, and now here it is," said Natalie, who declined to give her last name. "We're just hoping to get people to listen."
Natalie has also been protesting on behalf of the group United Against Police Terror, a San Diego-based grassroots movement formed to educate people about police violence.
The protest consisted of a speech, a four-minute "die-in" on behalf of one of the black males shot by white police officers, Michael Brown, and a march across campus to spread their message. Police officers across the campus were on standby in the event that there was any violence.
Christopher Walker, a 27-year-old African American who is majoring in social work, gave the speech, which was written as a message to inform the school to speak up against police violence.
"People are afraid to speak up," Walker said. "It goes far beyond just us as individuals."
Walker, a veteran who served in Afghanistan, spoke about how he fears for his family and how America in general is afraid to speak up against racism.
By Brian Myers

Last weekend in City Heights marked two radically different responses to law enforcement in diverse and lower income communities…SDPD has been able to generate good rapport with some of City Heights' community leaders and business owners. However, racial profiling data, video footage questioning reported police accounts, and national stories of young black men being fatally wounded by police officers has others wondering where the U.S. has left the civil rights movement.
Over two dozen joined a candlelight vigil Sunday evening for Tamir Rice and other young people who have lost their lives when confronted by the police. Part of a nationwide call to rally for the three month anniversary of the death Rice, a 12-year-old black boy that was shot and killed by a white Cleveland, Ohio police officer.
Organized by local community activist DeMilo Young, the rally mourned the loss of the youth and called on participants to take action to prevent further deaths.
"A black man, woman or child are more likely to be shot by police. Why is that? We have to get to the root of that issue," Young said. "We can't just say we need law enforcement reform. We need humanity reform."
The San Diego County District Attorney's Office recently released a study of San Diego County officer involved shootings with 20 years of data. The report shows that 19 percent of the suspects were black. San Diego County has a total black population of 4.59 percent, as of 2011.
At the rally, Cathy Mendonca of United Against Police Terror – San Diego, read out loud the names of the youth that became statistics for that report.
UAPTSD and Women Occupy are petitioning to reform the City of San Diego's Citizens Review Board on Police Practices to be more reflective of the County of San Diego's Citizens' Law Enforcement Review Board
Protesters Gather in Mid-City After Ferguson Decision
KPBS' Storify